BEFORE AND AFTER CERAMIC LINING PROCESS.
CASTING IN CERAMIC LINING OF CHIMNEYS / FLUES.
​
Besides fitting flexi liners I am also involved in ceramic chimney/ flue lining. I work with the company who actually invented the system, my role is to sweep the chimney and fill out the survey form, without which they cannot quote for the job. The company I work with on this have a long track record in this area and all the work is carried out by their engineers. Of course I have experience of the process and chimney building so I understand the pitfalls etc. and give the right advice.
​
​
​
As the age of the housing stock increases leaking flues are becoming increasingly common. This can of course cause carbon monoxide poisoning and also reduce the draw on the fire.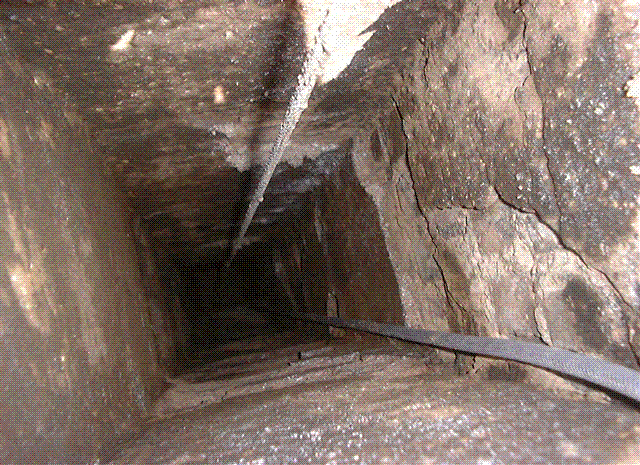 ADVANTAGES OF CASTING IN A LINER FOR A CHIMNEY.
​
After the work has been completed a hard wearing gas leak proof chimney/ flue is created.

As much as possible the existing cross section of the flue is maintained.

Generally any existing open fire will not need to be removed. Thus saving a large expense.

It is suitable for all fuels.

The disturbance inside the house is minimised with this method.

The lining material is resistant to attack from acidic condensates.

Up draft is improved.

It is a superior system to the installation of a flexible liner for a similar cost and chimney sweeping much more practical in the case of an open fire.

The lining system will strengthen the chimney structure as well
PHILIP LOWE CARDIFF CHIMNEY SWEEP t/a FIRE AND FLUE CARDIFF.
AREAS COVERED INCLUDE CARDIFF | NEWPORT | CAERPHILLY | VALE OF GLAMORGAN | BLAENAU GWENT | BRIDGEND | RHONDDA CYNON TAF |